Welcome to Our Parts Department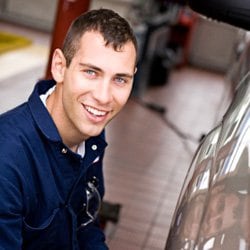 No matter what your Ford vehicle needs, we've got genuine parts for all occasions here at Jensen LeMars Ford
Ford cars are among the most durable and high-quality vehicles on the market, so when it comes time to replace their parts and components, why would you trust anything other than genuine Ford parts? At our dealership, we're proud to say we employ a host of Ford parts experts who're ready and willing to help you find the right replacement parts for your Ford F-150, Escape, Edge, Ranger or Expedition. With the help of our parts team, you'll get the most out of your car, truck or SUV for years to come.
Genuine Ford Parts at Jensen LeMars Ford
If your main concern as a Sioux City or Merrill driver is finding reliable parts, look to Jensen LeMars Ford for help! Our parts department is ready to help drivers find a host of genuine parts, including Ford parts! We'll help drivers find the same parts used by Ford in production so that Sioux City and Merrill drivers can rest easy knowing the parts are high-quality and made specifically for their vehicle! Whether imitation parts have failed you in the past or you just want to be doubly sure that the parts last, the Jensen LeMars Ford parts team is ready to help! 
Order Your Parts & Accessories Today in Le Mars
Since we have a connection to Ford, we can get any product for your vehicle, and if you aren't planning a DIY project, our service team at Jensen LeMars Ford can take care of everything for you. You'll bring your Ford F-150, Escape, Edge, Ranger or Expedition to us with confidence knowing that we only use the right parts for your vehicle and nothing less. Visit us in Le Mars to get started.